Email marketing is a powerful tool for B2B companies. It can help you generate leads, build relationships, and close deals. But with so many email marketing software tools available, it can be difficult to know which one to use.
When it comes to B2B email marketing, various software tools are at hand to help businesses get the most out of their campaigns.
Here are 10 B2B email marketing software tools to help you get the most out of your email marketing campaigns.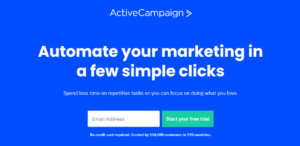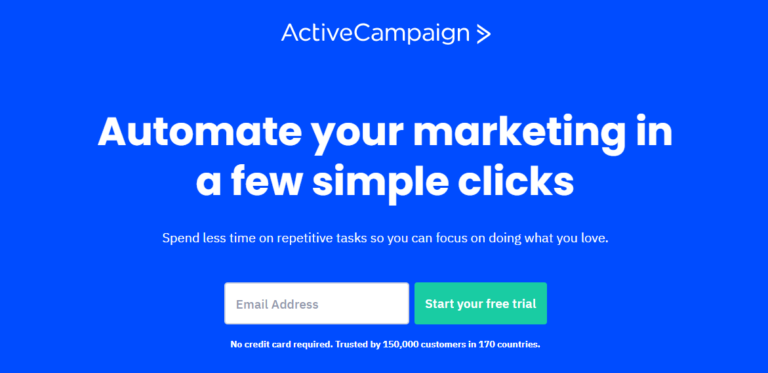 ActiveCampaign is a good email marketing tool for B2B companies.
It allows you to segment your contacts into different lists based on their interactions with your brand, making it easy to target them with relevant content.
The platform has many email templates designed to grab attention and get results.
ActiveCampaign provides robust tracking and reporting tools and insights into your email marketing campaign's performance.
Starting at $9/mo, ActiveCampaign is priced reasonably and more affordable than the other tools on this list.
ActiveCampaign's notable features:
125+ Email templates

500+ Automation recipes

870+ Integrations

CRM

Send SMS, site messages & email

Split actions and A/B Testing

Landing pages

Predictive content, sending & deal win probability

Goal monitoring, attribution & sales analytics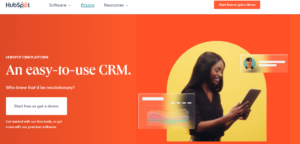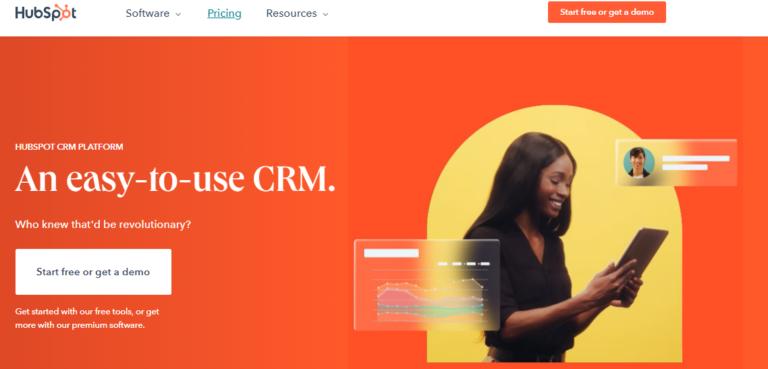 Hubspot is a good option for B2B service companies in email marketing, especially for B2B service organizations.
It offers a wide range of templates and tools that make it easier to create beautiful, professional-looking emails.
Hubspot's email deliverability is among the best in the industry, so your emails are more likely to reach your subscribers' inboxes.
Hubspot's reporting and analytics features give you valuable insights into your email marketing campaign, thus you can continually optimize your results.
Even so, be cautious of a potential billing shock as some business owners pay much more when their list starts to grow. 


Sendinblue is a viable choice if you focus on transactional email. Its pre-built developer recipes make it a fantastic option if you require an email marketing solution with a robust API to get your emails into inboxes with a high deliverability rate.
What are Sendinblue's key features?
Marketing automation

SMS

Live chat

CRM

Transactional email

 landing pages

Sign-up forms

Facebook Ads


It's easy to become lost in an email automation sequence if you've done it before. A unique feature of Autopilot is the ability for users to add notes and emojis to their automation sequences, making it easier for teams to work together on automation projects. Autopilot is your go-to software when you look for advanced marketing automation.
You'd rather have an ugly automation sequence you can comprehend rather than beautiful ones that you have to decipher for half an hour after the fact.
Another thing to enjoy about Autopilot is the ability to trigger actions in other Autopilot products. It eliminates the need to use a service like Zapier to set up integrations and makes your sequences more comprehensible.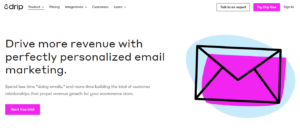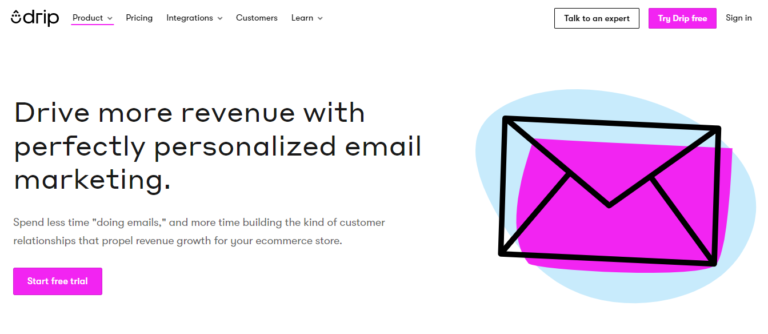 Drip is a suggested tool for B2b email marketing.
It allows a high degree of customization and flexibility in email content and delivery.
It denoted that marketers can send highly targeted and relevant messages to their customers and prospects, increasing the likelihood of engagement and conversion.
Drip provides an easy-to-use interface and powerful automation features that make it simple to create and manage email marketing campaigns.
It offers competitive pricing and a generous free trial period, making it an attractive option for businesses of all sizes.
Many e-commerce systems, including Shopify, Magento, WooCommerce, and more esoteric and custom-made ones, may be easily integrated into Drip.
When it comes to boosting e-commerce sales, Drip's built-in revenue analytics and tools for engaging customers across many channels (from social media to SMS) are among the top-notch platforms you can find in the market.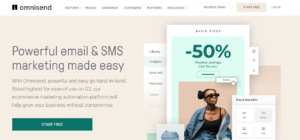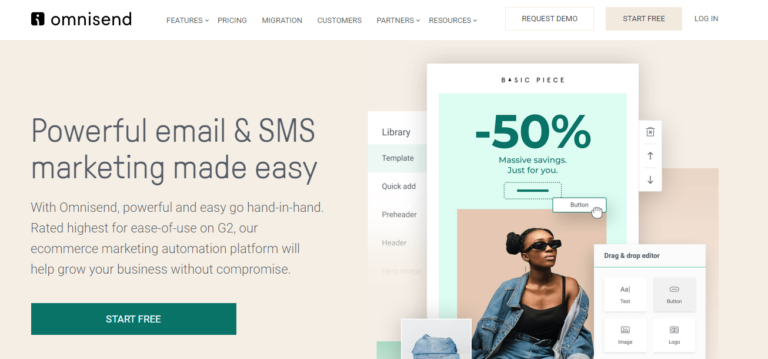 For e-commerce enterprises, Omnisend is a viable alternative.
Omnisend is rapidly becoming one of the most popular e-commerce marketing platforms.
E-commerce firms may use Omnisend to send automated emails, SMSes, push notifications, and, most impressively, integrations with different platforms like Google Ads, Facebook Ads, Messenger, Instagram, and WhatsApp claim to have 10X greater click-through rates than email.
Omnisend, an e-commerce email marketing solution, is compatible with Magento, Shopify, BigCommerce, and other popular e-commerce platforms. It surpasses expectations by integrating with services like Yotpo, Smile.io, and ReCharge, allowing customers to leave reviews and feedback.
It enables Omnisend to report on how your campaigns impact sales and allows you to trigger email, SMS, and social campaigns based on your customer behavior to reduce cart abandonment, increase return buyers, drive more product reviews, and more.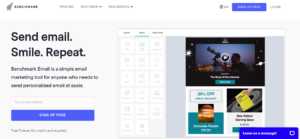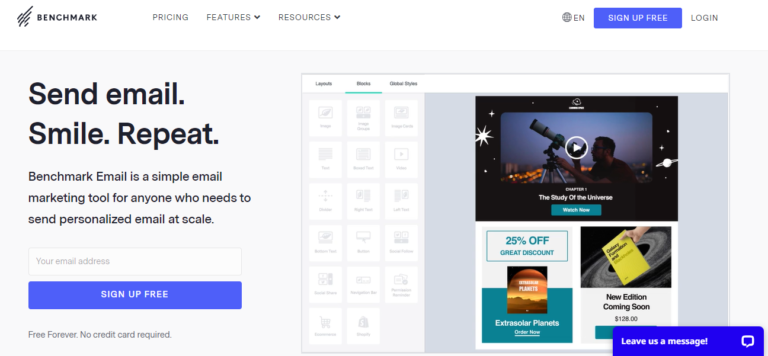 Benchmark is good for B2B email marketing, especially for agencies running email marketing campaigns for multiple clients. To begin, it's a flexible and user-friendly tool for building and managing email marketing campaigns. Another benefit is Benchmark's flexibility in customizing your campaigns to your requirements and targets. The company also provides exceptional customer service and a free trial, so you can see if the platform is perfect for you before committing to a paid subscription.
An essential, easy-to-use email marketing and automation platform like Benchmark is an excellent fit for any small business. If you're running a small agency or consulting firm, this is a perfect option for educating your employees and giving a positive customer experience.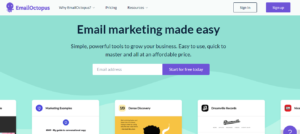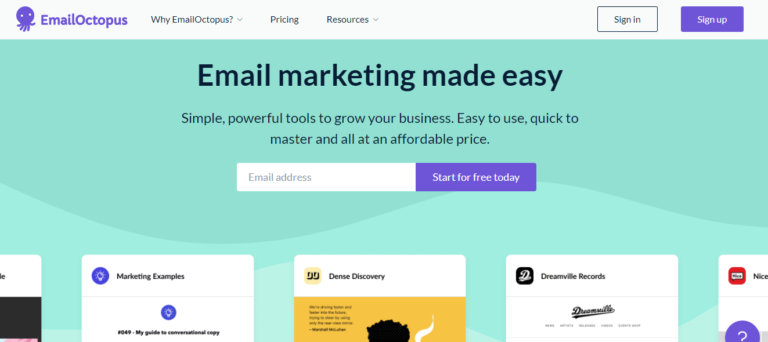 EmailOctopus is a recommended tool for B2b email marketing for several reasons. It is cost-effective, as it offers a pay-as-you-go pricing model based on the number of contacts in your mailing list.
EmailOctopus integrates with Amazon SES, which offers a high deliverability rate and ensures that your emails will reach your subscribers' inboxes.
EmailOctopus offers features that make it easy to create and send high-quality email campaigns, including a drag-and-drop email builder, a customizable template library, and built-in tracking and reporting tools.


MailerLite has one of the best email marketing tools for the money (it's entirely free for delivering up to 12,000 emails per month to less than 1,000 contacts), which is the opposite end of the price range.
Compared to similar solutions for beginners, MailerLite offers a universally good experience regardless of the user's business. The MailerLite bulk email marketing platform is ideal for anyone who is building a small charity, running an additional side business, or just starting as a freelancer.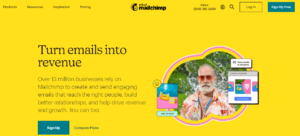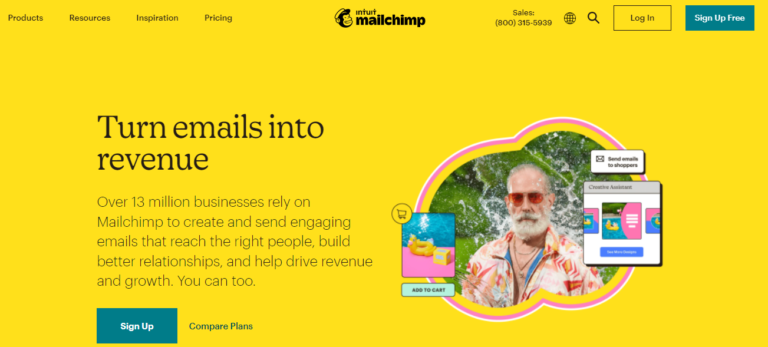 Mailchimp is a proposed tool for B2b email marketing. Mailchimp is an easy-to-use platform that allows users to create beautiful email campaigns with little to no design experience.
Also, Mailchimp offers a wide range of templates and tools that make it easy to create targeted and effective email campaigns.
In addition, Mailchimp provides detailed reports and analytics that allow users to track the performance of their email campaigns and make necessary adjustments. Mailchimp's pricing is very competitive, making it a great option for businesses of all sizes.
Importance of Email Marketing
Email marketing can help B2B marketing in several ways. It can help build relationships with potential and current customers. By sending regular emails, businesses can stay in touch with their customers and build a rapport.
 Email marketing can send targeted messages to specific customer base segments. It allows businesses to tailor their marketing messages to particular groups, increasing the likelihood that those messages will be relevant and practical.
Besides, email marketing can be cost-effective in reaching many potential customers. Email marketing can be a valuable tool for businesses seeking to improve their B2B marketing efforts.
Common Features
Here are some of the common features of a good email marketing tool:
Email Automation
Email automation is the process of using software to automate email-based workflows. It includes tasks like sending automatic welcome emails to new subscribers, sending triggered emails based on customer behavior, or sending emails on a schedule. Email automation can be a massive time-saver for businesses, allowing employees to focus on other tasks instead of manually managing email communications.
Analytics and Metrics
The analytics and metrics feature of an email marketing software is a set of tools that allow you to track the performance of your email campaigns. It has things like open rates, click-through rates, and unsubscribe rates. You can better understand what is working well with your email campaigns and what needs to be improved by monitoring these metrics.
Social Media Management and Integration
An email marketing software's social media management and integration feature enables users to connect their email marketing account with their social media account(s). This connection allows users to post their email marketing content directly to their social media platforms and closely monitor the performance of their email marketing campaigns on social media. (Check out how social media can transform your B2B business). Additionally, some email marketing software platforms offer social media monitoring tools that can provide users with insights into how their email marketing content is performing on social media.

WYSIWYG Feature
WYSIWYG stands for "what you see is what you get." It is an essential feature of an email marketing tool as it allows you to see what your email will look like before you send it. This way, you can make sure that everything looks the way you want it to and that there are no errors.