If you're thinking about using a conversational messaging platform for your business, there are a few things you need to know.
These platforms can be a great way to improve customer service and increase sales. But they can also be a significant source of frustration if you don't use them correctly.
There are many different types of messaging platforms available for businesses to use. However, not all of them are created equal. Some are better suited for specific businesses, while others are more general.
In this article, we will share several things you should know about conversational messaging platforms before you decide which one is right for your business.
What is Conversational Messaging?
Conversational Messaging allows users to communicate with each other in a more natural way, similar to how they would speak to each other in person.
This type of messaging can be used in various settings, such as customer service, online communities, and social media.
Conversational Messaging has several benefits over traditional messaging systems. It allows for a more natural flow of conversation, which is easier to understand what the other person is saying.
It can also help reduce the number of misunderstandings that can occur in a conversation. Third, it can help make the conversation more interesting and engaging.
Check out our in-depth discussion about conversational account-based marketing to know more about how conversational messaging brings magic to your marketing game.
What is a Conversational Messaging Platform?
A Conversational Messaging Platform (CMP) is a software application that enables users to communicate with each other in a natural, human-like way.
CMPs are designed to facilitate communication between humans and machines, and between humans and other humans.
CMPs are often used in customer service applications, where they can be utilized to automate customer support tasks, such as answering frequently asked questions (FAQs).
They can also be used in chatbots, which are computer programs that simulate human conversation.
CMPs are based on a number of underlying technologies, including artificial intelligence (AI), natural language processing (NLP), and chatbots.
These technologies enable CMPs to understand the human conversation and respond naturally- bringing more meaningful communication to the table.
How B2B Marketers Use Conversational Messaging Platforms
There are a few different conversational messaging approaches that B2B marketers can use to connect with their target audience. One approach is to use chatbots to engage potential customers in a conversation.
It can be through a chatbot on a website or a social media platform such as Facebook Messenger.
Another approach is to use a chatbot to answer frequently asked questions or to provide customer support.
Besides, B2B marketers can use it to send out email newsletters that contain helpful information or tips.
For example, a newsletter could contain an article about a new product or service that the company is offering. It's also a powerful way to use this platform to send them a newsletter that could contain a case study about how a company has used its product or service to help its customers solve their pain points.
Benefits of Conversational Messaging Platforms
Here are some of the benefits of using conversational messaging platforms:
24/7 Customer Service
CMP can provide businesses with a way to automate customer service tasks, such as responding to customer inquiries and managing customer interactions.
It can free up customer service representatives to handle more complex tasks or to provide a higher level of customer service.
Additionally, CMP can help businesses to manage customer interactions efficiently by providing a way to track and manage customer interactions across multiple channels.
It can help businesses to resolve customer issues more quickly and to provide a better overall customer experience.
Increased Customer Engagement
CMPs are a kind of artificial intelligence (AI) that can simulate human conversation. They are invented to understand human conversation by extracting small bits of information from a conversation, called "utterances," and then responding in a way that is created to keep the conversation going.
Automated Lead Capture
When a customer reaches out to ask a few questions about your products and services, CMPs can be a helpful tool for your sales team to capture them as leads and help them with their needs.
CMP can help businesses to automatically capture leads through conversation by providing a way to collect customer information and conversation data.
Personalized Customer Experience
Conversational Messaging Platforms (CMPs) help businesses provide a personalized customer experience by automating customer interactions and engagement.
CMPs can be used to automatically send messages to customers based on their interactions with the company, including customer service inquiries, sales inquiries, and product or service updates. CMPs can also create and manage customer loyalty programs or provide customer support and training.
Increased Sales and ROI
CMPs can help businesses automate repetitive tasks, such as customer service inquiries or appointment scheduling. It can free up employees' time to focus on more productive tasks, resulting in increased ROI.
Additionally, CMPs can help businesses gather data about their customers, which can be put to use to improve marketing and sales strategies.
Finally, CMPs can help businesses build better relationships with their customers, following the increase in customer loyalty and repeat business.
The Top 4 Conversational Messaging Platforms
Find the conversational messaging platform that addresses your unique needs. Here are four of the best platforms available in the market that you might want to give a go.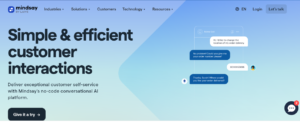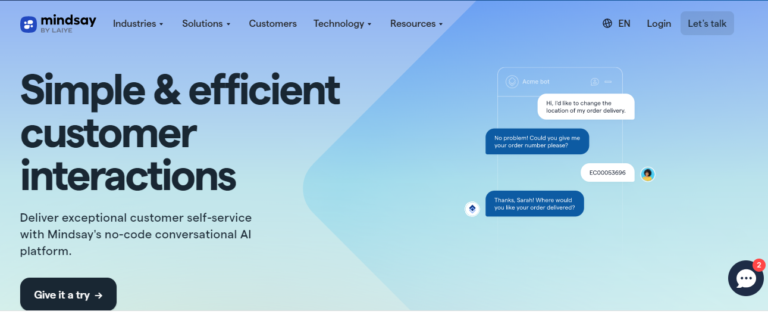 MindSay is a powerful conversational platform that enhances the way customers interact with your business.
Your company can benefit from MindSay's various customer service options. In addition to answering frequently asked questions, it is proficient in providing dynamic responses to inquiries.
If it cannot answer a query, it will pass the interaction on to a human agent for assistance.
Key Features
Let's examine some of its salient characteristics:
110 language support
Capabilities at the enterprise level
Customer care chatbots and sales chatbots
Suitable in a variety of industries
Pricing: Available upon request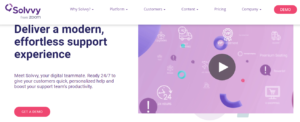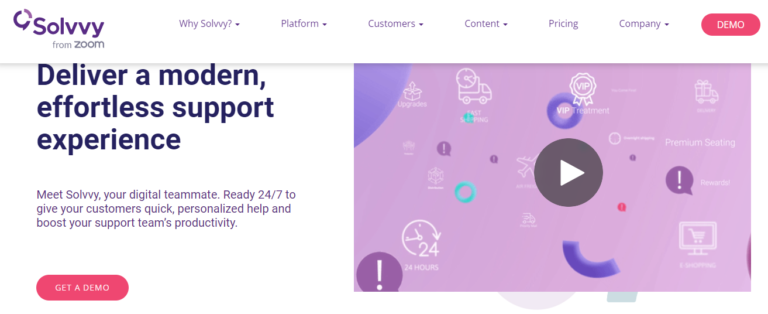 Solvvy is also a fantastic conversational messaging platform you should consider in your business.
It detects what customers need. It assists them in settling their issues anywhere across the web, mobile, or social – then route them to the right support channel or agent if needed.
Key Features
Chatbot training.
Statistics and analytics.
Workflow builders.
Multi-channel support.
Pricing: Available upon request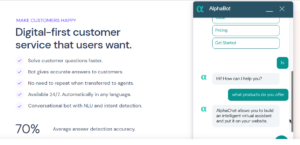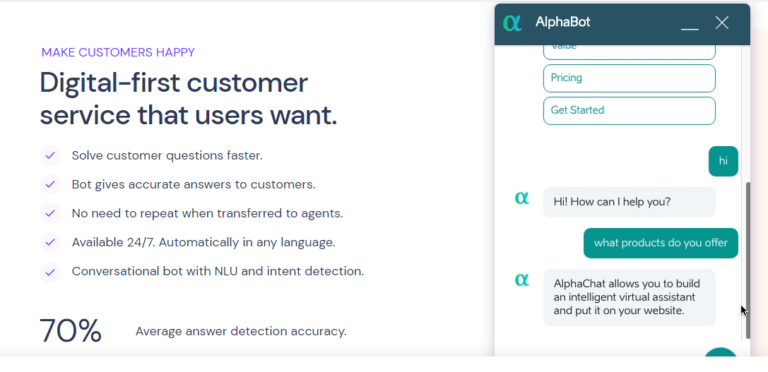 Another platform you should check out is AlphaChat.
It is an effective tool that anyone may use to create conversational messaging flows for clients. In a few minutes, start an AI-based virtual agent. SLA and Alpha Operating System with custom code accessible for enterprise chatbots.
API with deep visibility into bot content and AI tips on how to develop Conversational AI.
Key Features
Organized Topics using Floweditor
Chatbot Visual Editor
Built-in Natural Language Understanding for training Conversational AI.
Optimized for website chat automation. Live chat built-in.
Use API to authenticate users and provide personalized automated support.
Pre-trained industry templates. Works in all languages.
Pricing:  10-day free trial. Paid plans from €399/month.


ServiceNow is an NLU/NLP platform that facilitates the development of a conversational platform. Their conversational interface can be integrated into your mobile app or website.
Also, it is compatible with messaging platforms such as Slack, Telegram, Facebook Messenger, and Kik.
Key Features
Provides native NLP support for over 100 languages
Has the same console for bot building, training, deployment, and analytics
Comes loaded with voice and text capabilities
Offers real-time analytics reports
Has options to classify the intent of messages for bot training
Pricing: Available upon request
There's a lot to know about conversational messaging platforms, and it can be a lot to take in.
But, equipped with this knowledge, you'll be able to make an informed decision about whether or not a conversational messaging platform is right for you. Remember to keep your goals in mind, and you'll be well on your way to success.