Most business professionals are mindful of Linkedin and its potential for business networking and sales.
However, many are uninformed of the different levels of service Linkedin offers. The two main options for business users are Linkedin Sales Navigator and Linkedin Premium.
Both have distinct benefits that can make an impact on your business.
In this article, we will help you differentiate the two hoping you can arrive at the best decision to ramp up your B2B marketing game.
What is LinkedIn Premium?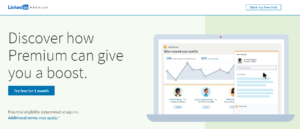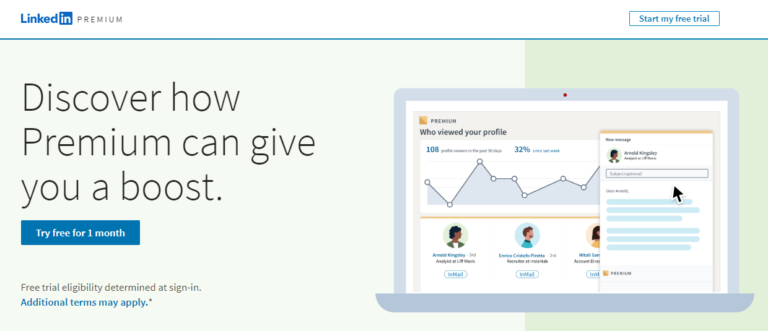 LinkedIn Premium is a paid subscription service that offers users additional features and benefits not available to those with a free LinkedIn account.
The main features are as follows: the capacity to contact any LinkedIn member, even if you are not associated with them, view detailed information about who has viewed your profile, and send messages to up to 50 LinkedIn members in twenty-four hours.
LinkedIn Premium also offers users exclusive access to particular job postings, as well as discounts on other LinkedIn products and services.
What is LinkedIn Sales Navigator?


LinkedIn Sales Navigator was designed with salespeople and business owners in mind.
This application allows you to examine how your relationships are related to potential leads, send messages to up to 50 people at once, and track email open rates and clicks.
The tool also contains filters that allow you to locate the ideal prospects based on factors such as firm size, job title, and geography.
Pros of Using LinkedIn Sales Navigator
Using Sales Navigator comes with a lot of advantages. Here are some of the following:
You can connect with anybody
Sales Navigator allows users to search for and identify potential leads and provides a suite of tools to help users engage with those leads. One of the most powerful features is the capacity to search for leads without needing their email address.
It can be incredibly favorable for B2B marketers looking to connect with their target audience.
It can help them quickly and easily connect with potential customers and can help to build relationships that can lead to sales.
You can see who has viewed your profile
The ability for B2B marketers to see who viewed their profile can be highly beneficial in several ways.
First, it can help marketers better understand which of their target audience members are engaging with their profile and content. Information gathered can then be utilized to tailor future content and marketing strategies to engage those individuals.
Additionally, seeing who is viewing one's profile can help identify potential new business leads and customers.
By understanding which individuals or companies are viewing their profile, B2B marketers can reach out and attempt to build relationships with them.
Ultimately, the ability to see who viewed one's profile can be a powerful tool for B2B marketers in some ways. Check out our in-depth article on why LinkedIn is the best platform for B2B marketing.
You Can Access InMail
Sales Navigator allows you to contact anyone on LinkedIn, even though you're not connected with them. There are numerous benefits to accessing Inmail using Sales Navigator for B2B marketers.
Perhaps most notably, Sales Navigator provides users with access to a vast pool of potential customers and clients. It is an invaluable resource for any marketer looking to expand their reach and grow their business.
It includes the ability to search for specific companies and individuals, as well as the ability to view detailed profiles of potential leads. Also, it is easier to identify the best prospects and connect with them in a way that is most likely to result in a sale.
Finally, Sales Navigator provides users with the ability to track their progress.
You can set up advanced searches to find the perfect prospect
By setting up advanced searches, salespeople can narrow their search results to find the most relevant leads.
Advanced searches in Sales Navigator can be custom-tailored to various criteria such as location, industry, company size, and more. It allows salespeople to target their search results to find the most qualified leads.
There are a few different ways that you can set up advanced searches in LinkedIn Sales Navigator. One way is to use the search bar to enter specific keywords that you want to search. Another way is to use the filters on the left-hand side of the screen to narrow down your results.
You can also use the Boolean search operators AND, OR, and NOT to further refine your search.
For example, if you want to find people who work in sales AND marketing, you would enter "sales" AND "marketing" into the search bar. Or, if you want to find people who work in sales OR marketing, you would enter "sales" OR "marketing" into the search bar.
Cons of Using LinkedIn Sales Navigator
While it may have a list of its glorious advantages, here are some drawbacks observed when using Sales Navigator.
Separate inboxes
Your inboxes will remain distinct even though having a separate app for Sales Navigator is useful. Managing your chats and keeping track of all of your messaging may get challenging as a result.
Limited InMail
Compared to standard cold emails, InMail has a greater response rate, making it a desirable feature.
Your ability to send InMail messages is limited in some membership tiers. Given the cost, this doesn't seem necessary and might be a problem for you.
High prices
A Sales Navigator package can be used to its full potential only the cost is high when compared to similar solutions.
Although they might not have nearly the reach that Linkedin has, you can receive a variety of lead creation and prospect research tools for half the price.
Pros of Linkedin Premium
Although it shares many of the advantages and disadvantages of its near relative, Linkedin Sales Navigator, LinkedIn Premium has some significant advantages and disadvantages to consider.
Views on profiles
Similar to Sales Navigator, LinkedIn Premium lets you view recent profile views, the same way it applies, you can view activity from several weeks ago. Even if you decide not to renew your subscription, this is an excellent way to record that information if you're curious about who has viewed your profile.
Small business prospect analysis
For an individual, LinkedIn Premium is preferable to a team.
It's wholly helpful if you require more in-depth prospect research for your small or solo business. Sales Navigator doesn't give you much more in the way of raw data.
Flexibility
Linkedin Premium comes in a variety of forms. There are customized alternatives available for your requirements if you're looking for different things to spice up your marketing plan.
By availing of the premium version, you can unlock many features that can lead you to exciting parts of the LinkedIn network.
Cons of LinkedIn Premium
Here are some of the cons when using LinkedIn premium:
Limited Features
Regardless of the same pricing point, Premium has fewer features than Sales Navigator. Lesser InMail messages will be sent to you.
Collaboration with your team won't be possible. TeamLink and other integration capabilities won't be available to you. Naturally, it's an improvement over plain Linkedin, but Sales Navigator is entirely an impeccableproduct.
Decreased Sustainability
We can see how many individuals may utilize LinkedIn Premium for urgent requirements; perhaps they're seeking a specific person, either their lead generation campaign could use a boost.
In general, Sales Navigator is more resilient, specially when used in a team setting. Premium might not be ideal if you're seeking to apply a suite of tools to completely overhaul your lead generation or sales approach.
Quick Comparisons
Now that we've looked at their features, It's time to weigh up Sales Navigator and Premium.
Price: LinkedIn Premium costs $59.99 per month for a single user and $119.98 per month for a maximum of five users, whereas Sales Navigator costs $79 per month for a single user and $139 per month for a maximum of five users.
Features: Sales Navigator's lead-generating tools, email templates, and contact management are included in the package, while LinkedIn Premium also gives you access to a list of leads who meet your criteria and the opportunity to check who has viewed your profile in the past 90 days.
Objective: While LinkedIn Premium is intended for professionals of all stripes, Sales Navigator was developed exclusively for salespeople
and business owners.
Which is Better Between Linkedin Premium and Sales Navigator?
Businesses wishing to create leads on LinkedIn might benefit from services offered by LinkedIn Sales Navigator and LinkedIn Premium.
However, Sales Navigator is tool for you if you're searching for capabilities like lead creation tools, email templates, and contact management.
LinkedIn Premium is the preferable option if you're more interested in being able to know who has viewed your profile or wants access to more leads.
Basically, it depends on the requirements of your company and the features you seek in a LinkedIn solution.