Sales Navigator is a professional networking platform that can be applied to connect with potential customers and further develop business relationships. The platform allows users to search for and view profiles of potential customers, as well as track their activity.
It also provides users with access to sales intelligence, including contact and company information to help them identify and pursue opportunities.
What is LinkedIn Sales Navigator?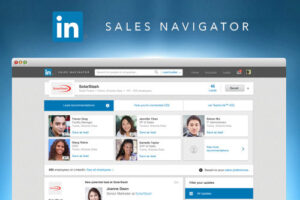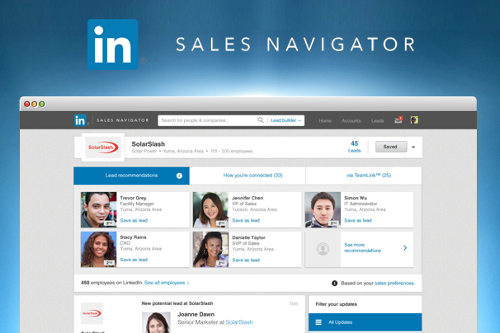 A LinkedIn Sales Navigator is a tool that allows users to find and connect with potential customers and clients on the LinkedIn platform. It provides users with access to a database of LinkedIn users, including tools to help them specify their search for potential customers and clients.
The Sales Navigator also provides users with insights and information about potential customers and clients, such as their LinkedIn profile background and contact information.
Good Prospecting Tool
Sales Navigator is LinkedIn's flagship sales tool. It's intended to help salespeople find and connect with potential customers and track their interactions over time.
It gives salespeople access to LinkedIn's massive database of professionals. With this, salespeople can quickly and easily find potential customers who match their ideal buyer profile.
Salespeople can find potential customers using Sales navigator in a few different ways. One way is to use the search bar to find keywords related to their product or service.
Another way is to use the filters to narrow down the results by location, industry, or company size. Plus, salespeople can save their searches and receive notifications when new leads that match their criteria are added to the Sales navigator.
Good for Tracking Interactions
Sales Navigator provides salespeople with tools to help them research potential customers and track their interactions.
By tracking interactions, companies can gain valuable insights into what is working and what is not in their marketing campaigns.
Information gathered can then be used to fine-tune future account-based marketing efforts. In addition, tracking interactions can help companies identify potential sales leads.
By tracking interactions, companies can build relationships with potential customers and partners.
It includes the ability to look at who has viewed their profile, send InMail messages, and track which prospects are most engaged.
Sales Navigator Integrates with CRM Systems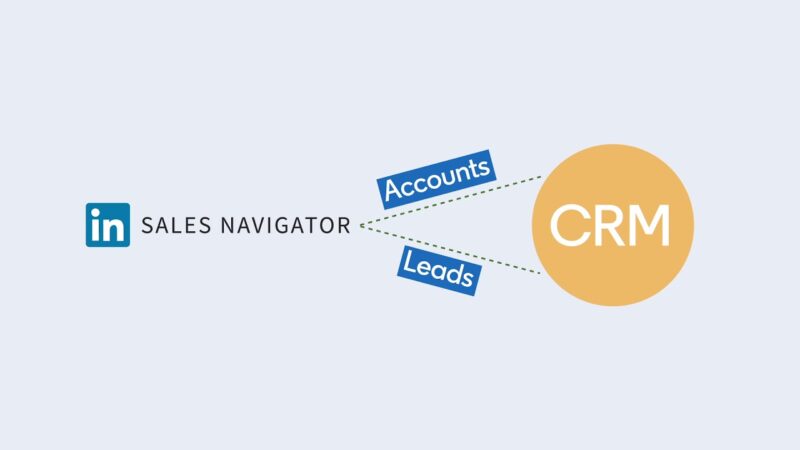 One of the benefits of integrating LinkedIn Sales Navigator into your CRM systems is that it can help you to better manage and nurture your sales leads.
By having all of your sales information in one place, you can more easily track your leads' progress and identify any potential roadblocks.
Additionally, LinkedIn Sales Navigator can provide you with valuable insights into your leads' buying habits and preferences, which can help you to more effectively sell to them.
Integrating LinkedIn Sales Navigator into your CRM systems can help to streamline your sales process, making it more efficient and effective.
Advanced Search Feature for Detailed Profiling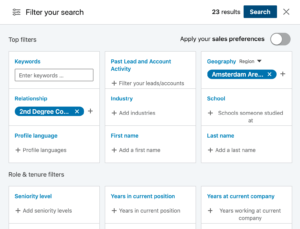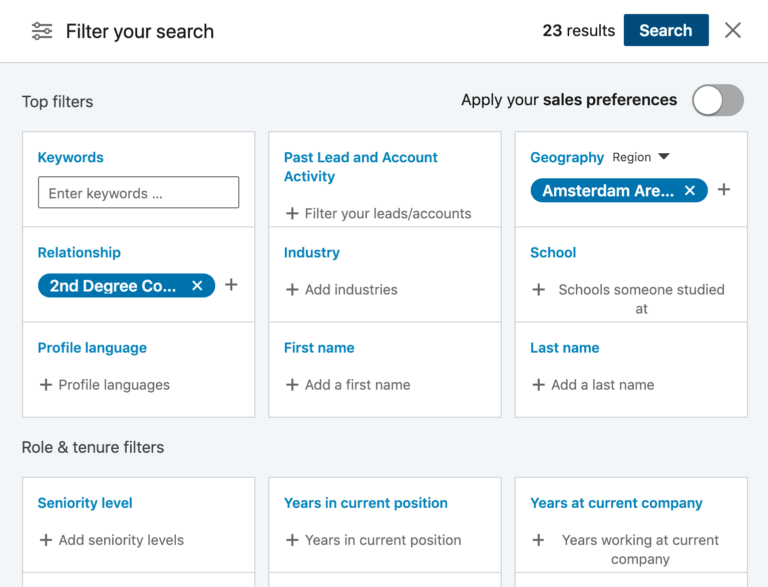 LinkedIn Sales Navigator has advanced search feature calling it as a game-changer for B2B marketers. It allows them to target their ideal customers with greater precision and accuracy.
Specifying certain criteria such as job title, company size, or location, marketers can ensure that they are reaching the right people with their message. This feature also allows marketers to save their search results so that they can come back to them at a later time.
Using this service has the benefit of empowering sales professionals with more information about potential consumers. It enables the agent to craft more engaging connection requests and follow-up messages, perhaps increasing sales.
As a result, there will almost certainly be a long list of profiles, some of which will be relevant to the company's specialization. The LinkedIn sales navigator assists sales personnel in quickly locating potential prospects by utilizing keywords from LinkedIn's search results.
Keywords are selected to represent the type of company they represent. In addition to the products or services they sell, they conduct business in a certain way. The list includes several terms that are closely connected and may be of interest to someone looking for
information.
Professional Sales Navigator Vs. Sales Navigator Teams
There are three LinkedIn Sales Navigator plans to choose from professional, team, and enterprise.


As of December 2021, all of the features of Sales Navigator Professional, Team, and Enterprise are detailed below, along with an in-depth explanation of each.
Here are the main distinctions between the three plans at a glance:
All of the core capabilities of LinkedIn Sales Navigator Professional are inclusive, including of the ability to do extensive prospect searches using advanced filters, create custom lists, and save searches. You will also receive 20 InMails every month.
All of the capabilities featured in LinkedIn Sales Navigator Pro are incorporated in Team plans, as well as the ability to share material and track interaction, establish "warm introductions" from coworkers, bringing you one step closer to Mrs. Hard to Reach Prospect. Additionaly, you'll receive 30 InMails per month.
LinkedIn Sales Navigator Enterprise includes all of the capabilities of the Pro and Team plans, plus CRM updates, data validation, single sign-on, and advanced enterprise connectors.
Add in 50 InMails every month, with cost based on the number of licenses and years you want to buy, and you've got yourself a prospecting machine.
Is LinkedIn Premium Included in LinkedIn Sales Navigator?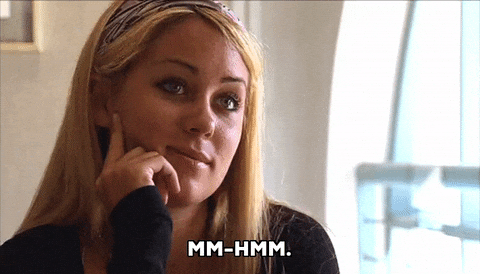 Yes, starting last September of 2021, LinkedIn offers Premium Career subscriptions to LinkedIn Sales Navigator users at no additional cost. LinkedIn Career states that InMailing a recruiter via its Premium Career service is 2.6x as effective as email alone and that LinkedIn Career can help you get recruited 2x faster.
It's a pleasant bonus and even better than its inclusion in the purchase. If you cancel your LinkedIn Sales Navigator subscription, you will lose access to LinkedIn Premium Career automatically.
Is LinkedIn Sales Navigator Worth It?
There is no simple answer to the question whether LinkedIn Sales Navigator is worth the investment or not.
The platform has a lot to offer sales professionals in terms of networking and building relationships, but it is not without its drawbacks.
Sales Navigator is a subscription-based platform that offers users access to a number of features, including advanced search filters, InMail credits, and the ability to see who has viewed your profile.
The platform was planned to help sales professionals make more connections and grow their businesses. The main benefit of Sales Navigator is the ability to connect with more people.
The platform's advanced search filters allow users to target their searches more effectively, making it easier to find potential customers and clients.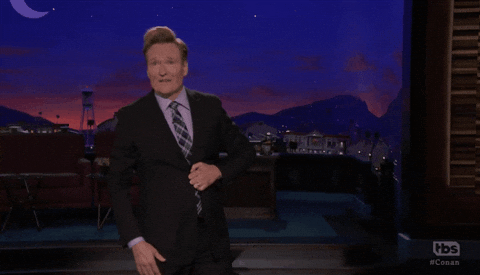 Using LinkedIn Sales Navigator can be favorable for sales professionals. It provides a wealth of information and data that can be utilized to research and connect with potential customers, along with building and nurturing relationships.
It can also be a valuable tool for tracking sales activity and keeping tabs on the competition. If used efficiently, LinkedIn Sales Navigator can help salespeople close more deals and boost their overall productivity.